by Brandi Savitt – revised October 10, 2014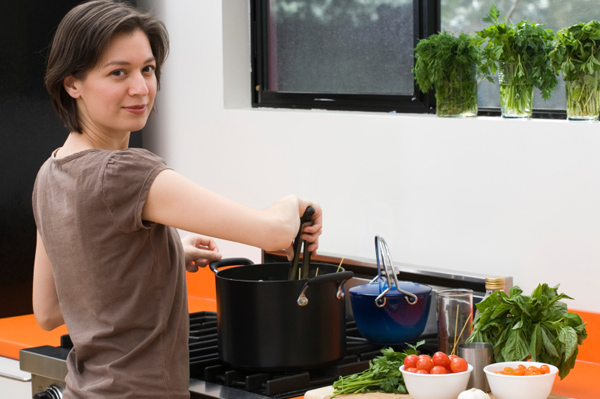 *The holidays – and all the cooking that comes with them – are right around the corner. It's the perfect time to revisit these Fab & Fru tips on how to bring your recipes back from the brink!
Simple Tricks to Salvage Your Supper
When my Great Grandmother taught me how to cook all of my Italian family's specialty dishes, there were no real recipes to follow.  It was more like a list of ingredients and a 4'10" drill sergeant minding every step I took until I got it right!
A pinch of salt here, a dash of pepper there, a tea cup of sugar, or was it a coffee mug of flour? Learning to cook with GrandmaGram had nothing to do with obvious precision, but was more about understanding consistency, texture and taste.  There was a method to her unscripted madness, and although, to this day, I still struggle to follow a recipe, GrandmaGram's culinary wizardry and unshakable authority gave me a confidence in the kitchen.  Not only did she encourage me to explore different foods, but she gave me the confidence to rescue a failing dish from being over salted, spiced, burnt or just plain bad.
We all have had our kitchen mishaps.  But instead of automatically wasting all that food and pouring all your hard work (and money) down the drain, first try and salvage your meal in the making.  Remember- necessity is the mother of invention!
Salty Sauces, Stews & Soups

Over salting food while cooking is a common mistake, but certainly NOT the end of the world. Instead of diluting your dish by adding water, and potentially weakening the overall flavor or changing the consistency – peel a POTATO!
Once peeled, cut the potato into a few thick slices and let it cook in the liquid.  The potato will absorb much of the saltiness and help to restore your dish back to a tasty state.  Just be sure to remove the salty potato slices before serving!
Way Too Spicy
I'm all for adding a little heat to give certain dishes a much needed background kick, but over spicing a meal to the point of torturing your guests and bringing them to sweaty tears is not acceptable! There are several theories out there when it comes to reducing the amount of heat in a dish – and they all depend on the spice!
Honey: If you've added too many red pepper flakes, cayenne, chipotle pepper or hot paprika, try slowly adding a little honey.  The sweetness will not actually reduce the spice, but it will counterbalance heat when you taste the food.  A little bit of honey goes a very long way so only add a tiny amount at a time and taste the results as you go!
Lemon: Quarter a lemon and add it to firey hot curries and other Asian dishes.  The acid helps counterbalance the heat.  If you add lemon while cooking, make sure to taste the dish to see if you need to add a little sweetness to balance out any tart flavor.

Vodka: Adding a tiny splash of vodka to a dish that has too much BLACK PEPPER, will help reduce the spice.  Simmer away the alcohol and the overwhelming taste of pepper at the same time!
Olive Oil: When cooking with hot chiles, adding olive oil helps neutralize the heat.  No one likes an oily dish, so be careful not to add too much!
Reduce Tomato Acid
If you're cooking a tomato sauce or a chili, and the dish tastes too acidic, try adding a 1/2-1 teaspoon of baking soda to help neutralize the acid.  Added bonus– baking soda helps cut down on the gas produced by beans too!
Get Rid of that Burnt Flavor
If you burn a sauce or a gravy, immediately pour it into a clean pan, and add small amounts of sugar to the mixture a little at a time.  Taste as you go so the sauce does not get too sweet, but you will be amazed how it takes that burnt flavor away!
Thicken Up a Thin Gravy or White Sauce

If you make a gravy or creamy sauce that is just too thin, don't fret – just make an impromptu rue on the side.  In a separate pan whisk your thickening agent (flour, cornstarch or arrowroot) with a little bit of butter or olive oil over a low heat.  Cook this mixture 1-2 minutes before whisking in your liquid (broth, meat juices, or milk).  Stir slowly over low heat to help blend the flavors, and then add it to your watery gravy or sauce.  Your sauce will thicken within seconds without any lumps!
Haste Makes Waste
Back in GrandmaGram's cooking heyday, there were no 24 hour grocery stores or pre-prepared culinary emporiums to run out to and save the day – so she had to get creative and learn how to fix meal mishaps on her own.  Though sometimes a dish really is beyond repair, these rescue tips will save you time, money – and your dinner!
|
Print