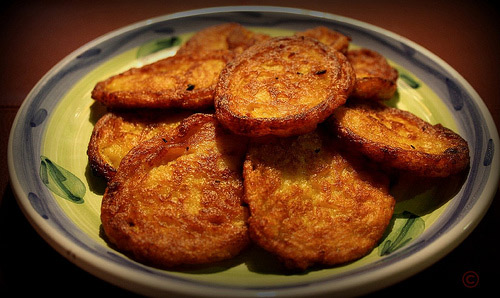 Recipe courtesy of Michelle Malley-Campos
This was Andrea's favorite fall food growing up. These sweet and gooey fritters are a treat for both kids and adults.  You can also make them with squash as long as it's on the sweet side.
Serves 4

Ingredients:
1/2 medium sized pumpkin, seeds and goop removed, cut into large pieces
6 Tbsp flour
4 Tbsp plus 1 tbsp (optional) light brown sugar
1/8 tsp salt
1/4 tsp cinnamon
1 eggs yolk
Directions:
Boil the pumpkin pieces until soft.  Drain the boiled water and rinse the pumpkin using cold water (so you don't burn your fingers when peeling the skin off). Place the pieces in a bowl and remove the skin. Use clean kitchen towels or paper towels to squeeze out as much water as possible. Crush the pumpkin, you should have 1 1/2 cups worth.
Mix the dry ingredients in a separate bowl and gradually fold the mixture into the pumpkin. Now add the egg yolk and stir everything together until you have a thick batter.
Heat about 1/2 inch of vegetable or corn oil on a hot frying pan. When a drop of water causes the oil to sizzle, but not splatter, add spoonfuls of the dough one at a time- flattening and shaping them into circles. Do not overcrowd the pan (cook in batches).  Brown both sides of the fritter until they are a dark golden color. Once cooked, transfer them onto a plate lined with two paper towels to absorb the excess oil and blot any remaining grease.  Place them all on a clean plate and  sprinkle with additional brown sugar.  Serve immediately to ensure extra deliciousness!
Print