*It's time to revisit our Thanksgiving no-no list – read these to ensure you are the best guest you can be!
How To Make Your Host Thankful
We're just a few short weeks away from Thanksgiving – and guests all across America are about to make some major etiquette fumbles.  So, please – check out our Fab & Fru tips for being a good guest – you can thank us next year when you get asked back! We polled some of our favorite hostesses and they shared with us their top guest gripes…
Dietary Restrictions
In the event that you have a very restrictive diet – be it vegan, raw food or no-carb  – please do not call the hostess to "make sure" there will be something there for you to eat!
We heard from a number of hostesses who said they are grateful to know in advance about life-threatening food allergies, but resent being called to see if she will be serving a "vegan entree option" – for example.  If you are following a special diet, just let the hostess know you will be bringing your own meal – or happily make due with what is being served!
"Don't Bring Anything"
The hostess tells you to "just bring yourselves"?  She doesn't mean it.  No, seriously – she is lying.  Never come to a holiday dinner empty handed – period.  We have plenty of Fab & Fru inexpensive hostess gift ideas that are easy to make and will surely be appreciated.
But Please Don't Bring The Following Items
Having said that, there are a couple things you should not bring.  Number one?  Flowers.  I have had hostesses tell me they want to hit their well-intended guests over the head with bouquets of flowers.  The last thing any hostess has time to do is cut stems, find a vase, and arrange flowers.  Seriously.
And Two Buck Chuck? Don't even think about it.  There are plenty of reasonably priced bottles of vino out there – but please try to draw the line at $2 wine.
Clean Up
Remember how we told you when a hostess says "don't bring anything" she doesn't really mean it?  Well, when she says she does NOT want you to help clean up, she DOES mean it.  I know, it's confusing – which is why we are here to translate hostess lingo for you.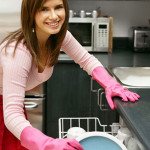 It's usually just at the very end of the evening that your hostess is finally relaxing a bit.  Which is often when a well-intended guest gets up and insists on starting to clean your house…
Chances are the hostess has her own way of cleaning items and loading the dishwasher that you will screw up.  One year a good-hearted guest threw all my heirloom crystal and china in the dishwasher – and, yes – it was piled in there like it was Tupperware. Not what I wanted to deal with right after hosting 30 people.
Hostesses appreciate you wanting to help, and you absolutely should ask if there is anything you can do.  If the hostess takes you up on your offer to clean, that's great.  But if she doesn't – believe us, she means it!
Thank You
Do we really have to say it?  Apparently we do.  Many hostesses have told us horror stories about hosting a major holiday and hearing nary a peep from guests afterward.  A heartfelt thank you is the best thing you can give a hostess, and it doesn't cost a thing.  Now that's Fab & Fru!
|
Print