by Andrea Moya– Revised November 5, 2014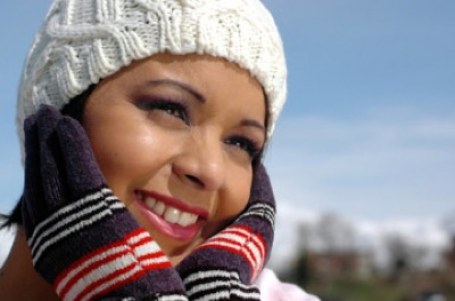 Hydrate From The Inside Out
As temperatures drop, the wind picks up, and the heat inside sucks all the moisture out of the air, our skin can become dry and irritated – and there's nothing fun about it.  However, we have some Fab & Fru tips to help you keep your skin healthy, silky and smooth without having to buy – and apply – loads of products!
What's Skin Anyway?
Skin is the largest organ of your body and your first line of defense against infection, so keeping it healthy should be a top priority.  It's several layers thick and the top layer is protected by lipids, or fats, that keep the moisture locked in. During winter, dry air causes these lipids to dry out and the underlying cells crack and fall apart.  This creates the flaky, itchy skin associated with cold weather.  In a nutshell, it's not just a lack of moisture, it's a lack of agents to keep moisture in the skin.
Keep Moisture In the Air

Make sure your windows and doors are not leaking cold air and seal any cracks so you won't need to heat the house as much. All heating systems take the moisture out of the air – not to mention produce giant heating bills!  If you can keep your thermostat lower, both your skin and your wallet will be much happier this winter.
House plants are another excellent way to help raise the humidity level in your home. They naturally generate moisture in the air plus raise the oxygen level in the room!
Invest in a humidifier. Ranging from $30 and up, humidifiers will add moisture to the air while helping to keep your skin, sinuses and respiratory system performing at their peak.  However, you must make sure to clean your machine regularly.  The  Mayo Clinic warns that if you do not properly maintain your humidifier,  it will turn on you by pumping the air full of allergens and bacteria if the vents and filters become clogged.  Don't worry: rinsing your humidifier with vinegar and water daily, will do the trick.
Eat Well & Hydrate!

Cold weather deters me from drinking water because I'm afraid it will just make me feel colder!  But by drinking more water you hydrate your skin from the inside out. If your worried about feeling cold, instead of refrigerating your water, keep it at room temperature.  Remember:  good nutrition is also important for maintaining skin condition.  You are what you eat, so stock up on foods rich in vitamins A and E  (leafy greens, almonds, eggs), as well as selenium rich foods (brazil nuts, turkey), and Omega-3 fatty acids found in fish and nuts. Added bonus: these will also help you fight off the winter bulge!
Cut Your Vices
It's not shocking, but we must remind you – alcohol, caffeine, and cigarette smoke are all terrible for your skin!  Alcohol and caffeine are both diuretics – and actually remove moisture from your body causing your skin to dehydrate more quickly.   Cigarettes produce toxic smoke that ages and weakens the skin. Scale back on these ladies, drink more water, and you'll not only have better skin, a fatter wallet, but you'll be healthier for it!
|
Print
Pages: 1 2