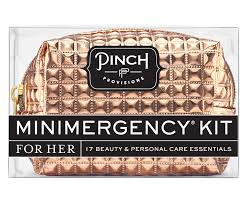 Good Things Come In Small Packages
Looking for a great gift sure to please all the women on your holiday list?  How about one for under $20?  We've got it – literally right in the palm of our hand.  Fab & Fru just loves Pinch Provisions' "Minimergency Kit" – at just $16 this little pouch packs a lot of punch!
Night Out Necessities
The kit comes packed with 17 miniature beauty and personal care products you may just need during a big night out.  We're talking everything from deodorant towelettes to mending kits to double sided tape to earring backs – and much more.  And it all comes in a petite pouch measuring  just 3.5″ x 2″ x 2″.  Stick it in your evening bag and you're ready to face whatever mishaps the night might bring.
Because these Minimergency Kits take up so little storage space, we'll be keeping a few extra on hand to give as chic birthday and hostess gifts throughout the year.  Be sure to check out the Pinch Provisions website to see their whole line – they now have versions for men, brides, bridesmaids and, yes – even dogs.  Here's to a season full of Fab & Fru festivities!
|
Print