by Brandi Savitt – December 3, 2014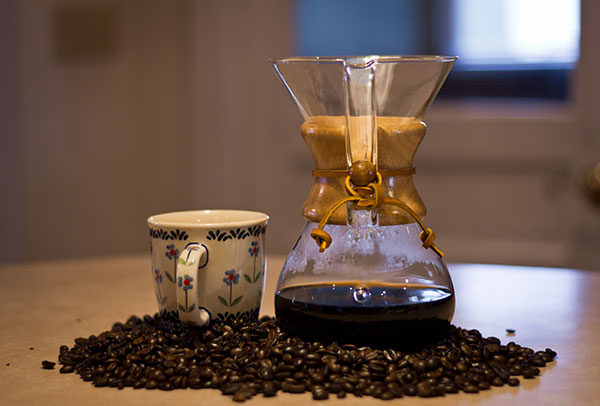 A Coffee Lover Must Have
**SPOILER ALERT: If you are related to me, reading on may ruin your Christmas surprise.. But who cares – this is worth it!**
While Steph has many talents, her super power is that she makes one mean cup of coffee.  And since she discovered the Chemex coffee maker last year, drinking coffee at her house has gone from an extremely enjoyable experience to absolutely unforgettable.
If you're a coffee lover yourself, you've probably heard all about the trendy rage of pour-over coffee - a la Blue Bottle. But the pour-over phenomenon is anything but new. In fact the elegant Chemex coffee carafe was designed in 1941 by a chemist in search of the perfect cup of coffee.
In many ways, the Chemex functions like a French Press, but Chemex coffee is filtered – and the pour-over method of making it, combined with the shape of the carafe, produces a rich, strong flavor without any bitterness. It does take a few extra minutes to make your morning brew with a  Chemex – but I can tell you – it's well worth the wait!
This Fab & Fru gift is perfect for any coffee lover or gourmet on your holiday gift list. And our research has found that Williams Sonoma has the best selection of sizes at the most affordable prices (plus free shipping).  Choose from a 3 cup  to a 10 cup Chemex. Prices range from $35-$43.  *And for $9.95, be sure to add a box of special filters to get your Chemex recipient started!
Special Add-ons:
If you want to give your coffee lover an even more elaborate gift, add a pound of their favorite coffee to the package, a modern hot water kettle with a long spout designed for pour-over system, or a fabulous coffee grinder.
This beautiful gift will be a hit – guaranteed!
|
Print