Revised December 29, 2014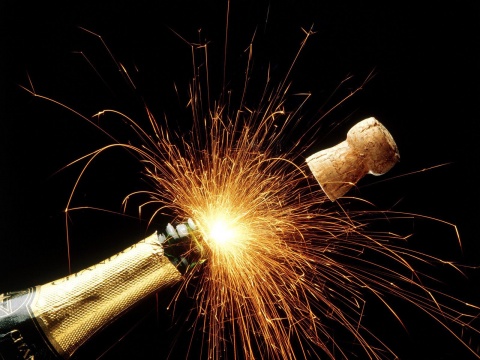 The Best Priced Bubbly
Looking for the 'pop' of Champagne without the price tag?  Jill Bernheimer of L.A. based DomaineLA and Brooklyn's Smith & Vine have fantastic insider tips for frugal fizz that won't sacrifice quality, taste or the experience of the classic expensive bubbly.  Shop online at both stores, give them a call for suggestions, or check out your local wine shop. Whole Foods also carries some of our Fab & Fru suggestions!
Methode Champenoise
Whether Cava or Cremant, there are lots of wines from all over Europe that use the same rigorous method of production as Champagne, but can't call themselves by the name since they fall outside the Champagne region. Cava is from Spain, and uses local Spanish grape varieties; Cremants come from France, and may or may not use the same grapes as in Champagne. You're saving money just by virtue of the fact that "Champagne" is not allowed to be printed on the labels of these bottles.
Here some of the experts favorite Methode Champenoise Special Picks for 2014/15!
Belle-Vue – Vin Mousseux Brut:  This sparkling Muscadet from the Loire Valley is light and minerally at about $18 a bottle.  Think oysters and crushed seashells, yum…
Bruder Dr. Becker – Scheurebe Sekt Extra Trocker:  At around $22 a pop, this delightful German bubbly doesn't just sparkle – it sizzles!
La Taille aux Loups – Triple Zéro:  This 100% Chenin Blanc from the Vouray Loire Valley in France is delicious at $25 a bottle
Crémant du Jura- – Domain de Montbourjeau:  100% Chardonnay from Jura and Savoie France, this "sparkle motion in a bottle" is $23 a bottle and the pick that tastes most like traditional Champagne.
|
Print
Pages: 1 2