A New Twist On Fab & Fru Food
We're just crazy about a new cookbook that came out this week – it's called The Soup Club Cookbook and it's totally Fab & Fru!  Even better? My sister, Caroline Laskow, is one of the authors – which means I got a sneak peak at some recipes and can already say their lentil soup is AWESOME!
The idea behind Soup Club is simple and delicious.  The four authors of the cookbook each take turns making big pots of soup – enough for all of their families.  They drop off the soup, along with sides and garnishes, at the homes of the other members.  Sounds a lot better than take-out to us!
Soup Club happens once a week.  So if there are 4 members in your club, you are only cooking a big vat of soup once a month – but the other three weeks you are treated to your friends' soup!
Get Your Community Cooking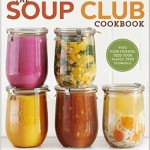 Soup, of course, is a very frugal food.  It's a great way to stretch extra produce and meats, and can easily be scaled up or down.  And most soups freeze beautifully, adding yet another dimension to this fab frugality.
The authors of Soup Club have developed recipes which are fresh, modern, and easy to follow. And, perhaps most importantly, Soup Club promotes a great sense of community we so often miss in today's rushed world.  The Soup Club Cookbook is available in stores and online now – just in time to warm you up this winter!
|
Print