Show Your Wallet Some Love
Valentine's Day is right around the corner, which means many couples have reservations for pricey "Prix Fixe" dinners.  A prix fixe meal, of course, is a very limited menu at a set price.  Sometimes you have a few choices – sometimes not.  It is usually expensive, and in our opinion – generally not worth it!
Bon Appetit?
We get the allure. A French name, high prices and lack of choice – it's got to be good, right? But in our experience, a lot of Valentine's Prix Fixe meals are pretty disappointing.
Restaurants count on the fact that people feel obligated to take a date somewhere fancy and pricey on Valentine's Day, and they capitalize on it. From a restaurant's perspective it's a smart move – limited choices equal better economics and faster turnover for them!
Fab & Fru Food: February 15th
Ok, you probably can't do this if you just started dating someone. But here's a tip for those of you in a long term relationship: try going to your fave restaurant Feb 15th instead of the 14th!
Lots of times restaurants are trying to use up high-end leftovers (lobster, anyone?) from Valentine's Day, and will offer them as specials the next day.  We've heard many Feb 15th success stories but you really have to know your partner to be able to suggest delaying your celebration by a day …
Get Things Cooking At Home
A totally Fab & Fru alternative is to make your own Valentine's meal at home.  For a family celebration we suggest making a heart shaped pizza – with store bought dough and red topping – you can use pepperoni, red peppers, tomatoes – whatever you want.  It's totally easy, cheap and fun!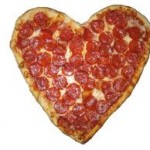 And if you are lucky enough to have a romantic date night planned, it's easy to whip up some aphrodisiac infused foods without spending a fortune…
Oysters usually get all the press, but according to Gayot.com, some of our grocery store favorites also get the nod!  Apparently asparagus, almonds and avocado all have aphrodisiac qualities – who knew?  All of these are easily prepared or incorporated into meals at home – without a lot of fuss or expense.  So this Valentine's Day, we suggest skipping the prix fixe – and turning up the heat at home!
Fab & Fru wants to know: what other aphrodisiac foods have you tried?  Any romance-inducing recipes you want to share?! 
|
Print