by Brandi Savitt – revised February 12, 2014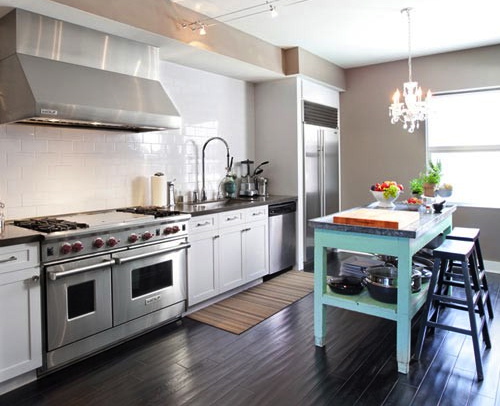 Add Color Without Much Cost
Looking to brighten up a room in your home?  See how using paint to add a burst of color will give any space a mini Fab & Fru makeover – without having to make a huge time and financial commitment.  The best part – you can do it yourself!
Paint the Back Wall of Your Bookcase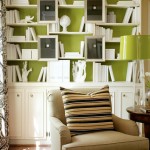 If you have built-in shelves, an open bookcase, or cabinets without doors, add a pop of color to your room by painting the back wall of each shelf.  This is perfect for the living room, bedroom or kitchen.  Go bright, white or choose a darker but neutral shade.  The key is to add contrast to your walls and the shelves themselves!  *Use a semi-gloss paint to add extra depth and help hide scuff marks from books hitting the back wall.
Paint an Interior Door with Color
Make a statement in an otherwise neutral room by painting the interior side of a door a bold or complementary color.  While extreme contrast could be a design statement, you don't want it to be jarring.  Also, to anchor the door, paint the frame so it doesn't look like it's floating on the wall.  *Use a semi gloss or gloss finish, but beware of choosing a paint color that appears too shiny.
Paint a Mirror or Picture Frame
There's nothing like adding a splash of color to a wall by simply painting an inexpensive mirror or picture frame.  Use paper tape to outline the perimeter of the glass, prime the frame, and then paint away.  *If you want give your frame a lacquered look, once the paint is dry add a few coats of clear varnish!
Paint Your Stair Risers
Whether you want to add a hint of contrast, or you're looking to get your stencil on, the risers of your staircase are the perfect canvas to have some fun and make a color statement.  A darker color will hide scuff marks and can easily be touched up.  But no matter the color you choose, use primer on the risers first and then paint two coats of semi-gloss or gloss.  *For extra durability, wait another day and add a third coat of paint.
Paint a Piece of Furniture
Create a movable color statement by painting an old chair, bench, dresser or table!  Clean and sand the  piece of furniture first – you can also use a flexible-foam sanding sponge.  Remove any wax buildup with rubbing alcohol, then prime and paint.  *Use semi-gloss paint to hide future scuff marks.  You can also apply a coat or two of clear varnish to create a lacquered effect!
Here's to adding a little color into your life – the Fab & Fru way!
|
Print