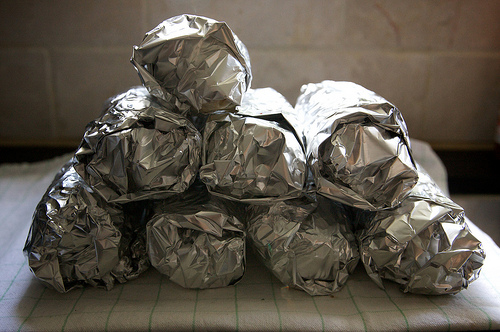 The Easy, Freezy Way To Save Money

I love the convenience of buying those frozen, organic burritos at the grocery store.  But at north of $3.00 a pop, it's an expensive proposition for feeding my family!
Here's the deal – beans and grains freeze well and are easy to make. And we all know how inexpensive beans and rice are – even when buying organic.  So why not take it one step further and freeze a bunch of homemade rice & bean burritos? Besides saving money, you also get to dictate how much sodium and spice goes into each one – a major bonus.
A pound of organic black beans costs around 80 cents, a 2 pound bag of organic rice costs around $3.00, and a package of organic tortillas around 2 bucks.  And you can flavor any way you like!  Try sauteéing onion and a bell pepper in olive oil with a pinch of salt, before mixing them in with the cooked beans. Your initial investment including extra flavoring comes out to around $8.00 – an amount you couldn't even buy 3 frozen organic burritos for!
We like to keep it simple and don't add anything other than the rice and bean mixture when freezing, because of course not all ingredients freeze well.  Just add other items like sour cream and lettuce fresh when serving.

Freeze That Thought
I always refer back to an article by food writer Mark Bittman called Freeze That Thought. It's full of Fab & Fru info on what and how to freeze. Bittman recommends wrapping the burritos individually -  first in waxed paper and then in plastic for best storage.  We've also wrapped them individually in foil and then put them in a freezer safe Ziploc bag.  Whatever materials you use to freeze – be sure to label and date the package so you know what's in there!
Assuming you would spend around $15 buying pre-made, organic burritos to feed a family of four (for just one meal), it's pretty thrilling to realize for the same price you can make around 20 homemade burritos and have them at your fingertips. Believe me, you will feel like a rock star of a mom serving your kids an organic, delish, homemade meal in the same amount of time it would take you to reheat chicken nuggets (which I love, by the way – just not 5 days a week).  Now that's some Fab & Fru food!
What's your favorite freezer burrito recipe? We want to know!
|
Print