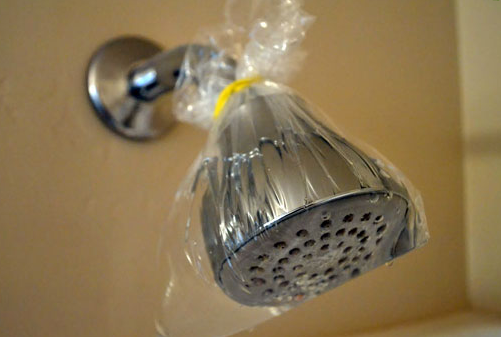 Cleaner & Better Pressure!
Cleaning your shower typically includes disinfecting your shower head by wiping it clean. But when the water pressure in my recently renovated bathroom began to weaken and several streams of water started spraying in random directions, I was determined to get my shower experience back to first rate.  The solution is simple… VINEGAR!
Over time, residue builds up and can clog the holes of your shower head – arresting and diverting your water pressure and flow.  Even if vinegar is your go-to disinfectant, a wipe, or even a scrub of your shower head doesn't always remove the residue trapped inside the holes. You have to get inside there and break it up… Here's what you do!
1. Fill a baggy with a 1/2 cup of white vinegar
2. Slip the opening of the bag over the shower head so it is submerged in the liquid.
3. Secure the baggy with a twisty, a hair clip or masking tape.
4. Let the shower head soak in the vinegar for 20 minutes.
5. Remove the baggy and turn on the shower.
6. Cheer with victory for your restored water pressure!
Note: If there is still a hole or two that seems slightly clogged, try running your fingernail over it. Sometimes the vinegar brings the lodged residue to the surface, and you have to just give it a gentle scrap to clear the opening completely.
|
Print