by Brandi Savitt – updated April 24, 2015

Green Clean Your House
Everyone we know is knee deep in spring cleaning.  Rather than waste lots of money on lots of chemicals, we like to keep our cleaning as green as possible…better for your health and your finances!
Invest in a Floor Steamer
Do you want make cleaning your floors (almost) fun?  For about $100, invest in a light weight upright floor steam/electric mop that cleans and sanitizes your wood & tile floor – plus other surfaces – with just the pure power of water & steam!
Honestly, it couldn't be easier.  For best results, sweep or vacuum your floors before steaming them.  Not only is your cleaning chemical-free, but there's no paper wasted as with Swiffers, etc.. You just throw the used cloth pad in the wash and it will be fresh as new. And just think of all the money you'll save by not buying pricey cleaning products!
*More expensive steamers come with attachments to make steaming & sanitizing furniture, mattresses, curtains and rugs easier too!
Clean Your Curtains
Be honest, when was the last time you cleaned your curtains?  These serious dust collectors trap dirt from both the inside and the outside.  Sure, you might occasionally think to pull off the dust bunnies, but if you really want to brighten a room while cleaning the air too – throw your curtains in the wash!
Of course some curtains are 'dry clean only' BUT – before you go running to the cleaners, READ THE CARE INSTRUCTIONS first.  If the label says the fabric can get wet, save yourself an expensive & chemical filled trip to the dry cleaner and machine wash your curtains yourself!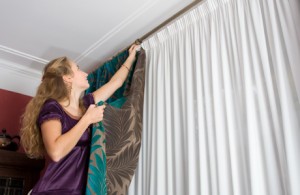 Some Helpful Curtain Cleaning Tips:
Even if the fabric is thick & sturdy, always wash your curtains on the delicate cycle and only use Woolite or another soap designed for delicates.  The sun can weaken the fibers of the fabric – so be sure to play it safe!
If your drapes are heavily soiled, wash in warm water if the label recommends it. Otherwise, it is best to wash your curtains in cold water to keep shrinking and fading to a minimum.
Always dry your curtains on a gentle cycle with low or no heat. It might take longer, but it will definitely make your curtains last longer.
Even if you plan on air drying your curtains, you should put them in the dryer for at least 15 – 20 minutes to help avoid wrinkles and ironing!
Don't hang soaking wet curtains back on their rods to dry. They will take too long to dry while dripping onto your carpet or flooring.  There's no use in cleaning your curtains if you're just inviting mildew into your home!
If you have even slightly damp curtains hanging, don't open any windows, vacuum, dust, or otherwise clean the room. Your curtains will attract all the dirt and dust.  Dirt on damp fabric often stains – so be patient or your work will be wasted!
Green Your Home – And Your Wallet
As we've so often seen, being green really is Fab and Fru!  Look first to the simple tools nature has to offer – like water, heat, lemon juice and olive oil – before making that wallet busting trip to the drugstore or the dry cleaner.  And for those of you who have been putting off spring cleaning due to the expense involved – you now officially have one less excuse!
|
Print